Sitting in a rabbit hole
2015年 06月 09日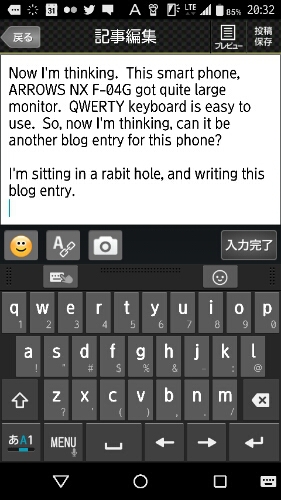 I think I fell into a rabbit hole. I'm surrounded by lots of kids. I just finished very peculiar English exam. The kind of exam I used to take when I was a kid.
Now, I'm waiting.
Waiting for a reception guy to call my name.
Waiting, so that I can enter that meeting room.
I'm waiting for my turn so I can have my interview.
God, I'm hungry. I almost missed my lunch today. Those sandwiches saved me but not enough to get me through this.
Where did the rabbit go?
Now I'm thinking. This smart phone, ARROWS NX F-04G, got quite large monitor and this QWERTY keyboard is easy to use. So, you know what? This is going to be another blog entry for "Keitai Kaigi". The blog team project that 15 bloggers write all about this phone. I'm not getting paid or anything, but I get to keep this phone.
Well, I guess that's about it.
I'm still sitting in a rabit hole, waiting for a white rabbit to come.